ROX Diamond Edge Wedding Ring 0.15cts
Currently, Out of stock £895
Don't know the finger size? Don't worry.
We stock a range of ring sizes but advise that M is the most popular for ladies and T for men. If your choice doesn't fit we can adjust any of our classic styles and we offer the first sizing free of charge. If we can't size the ring, we will offer an exchange for the correct size. Use our Ring Size Guide below or simply pop into one of our boutiques and the team will be able to help.
Downloadable Ring Sizer
If you already have a ring in your required size, download and print the Ring Sizer. For best results, your ring should have a similar band and style as the ring you wish to order.
Downloadable Finger Sizer
If you don't have a ring in your size, download and print the Finger Sizer.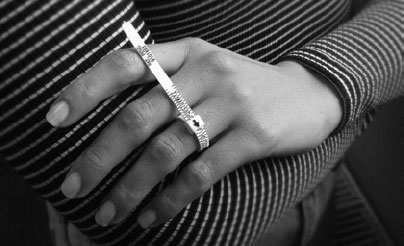 Multisizer Ring Gauge
Simply fill in your details below and we will post you out a FREE re-useable Multisizer Ring Gauge.
Don't wear your jewellery or watch while doing heavy or rough work and avoid contact with gritty substances. Don't store jewellery or watches together as they can scratch each other. Clean your jewellery or watch periodically. Check your manufacturer's recommendations for your watch servicing guidelines. Read our handy guides for Caring for your Jewellery or Servicing your Watch.
Orders placed before 3pm are usually dispatched on the same day.
Free Next Day Delivery
Free Next Day delivery via DPD is available on all UK orders. Orders under £250 will arrive the next day after dispatch. Orders over £250 are guaranteed for delivery before 1pm on the next day after dispatch.
Click & Collect
We can ship your order to ROX Glasgow, ROX Edinburgh, ROX Leeds, ROX Liverpool, ROX Newcastle or ROX Battersea for collection. We'll send you a confirmation email to say that your order is ready to collect and you'll need to bring photographic ID with you. You must book an appointment for your collection before visiting. Please note that inter-store transfers can take upto 2 days to arrive in the shop.
14-day Money Back Guarantee
We're committed to selling high-quality jewellery and watches that we hope you'll enjoy but we also know that, for one reason or another, there may be a time when you need to exchange or return something you've bought. We will be more than happy to offer you an exchange or refund provided that your purchase is returned to us with 14-days in its original condition, unworn, with the original packaging and sales receipt. We are sorry but we cannot offer exchanges or refunds if your item has been specially made to order or personalised to your requirements. Our 14-day Money Back Guarantee does not affect your statutory rights.

Diamond wedding ring is claw set with twenty five brilliant cut diamonds with a combined carat weight of 0.15ct. Hallmarked 750 18ct Canadian certified white gold band with polish finish and measuring approximately 2mm wide.
Specification
Metal

White Gold

Type

Women's Wedding Rings

Brand

ROX