Steve McQueen
Don't Crack Under Pressure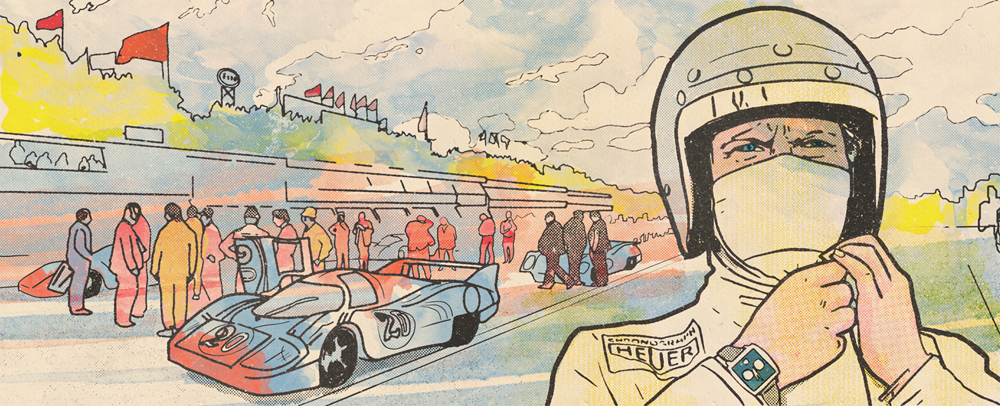 The man, the movie star, the legend
"I live for myself and answer to nobody." - McQueen on the set of The Cincinnati Kid
Almost 40 years after his death, the words of Steve McQueen still ring true as the world continues to fall for the charm of the 20th century icon. As a man who always did things on his own terms, the actor still holds the title of King of Cool – a bona fide bad boy from the streets who went on to become a rock star of the silver screen.
McQueen's legacy continues to inspire decades after his untimely death. Inextricably linked with TAG Heuer, the King of Cool had everything the brand embodies; impeccable style, irresistible charm, and the ability to never crack under pressure. Join us as we examine how this anti-hero became, and still is, one of the coolest cats to ever stalk the planet. Not that he himself would have shown an ounce of recognition of that…
A tough childhood
Born Terence Steven McQueen on March 24, 1930, in Indiana to mother Julia Ann and stunt pilot William Terence McQueen, life dealt our budding hero a cruel hand from the get-go. Abandoned by his father before his birth and his mother at three years old, the young McQueen was brought up by his grandparents Victor and Lillian in Slater, Missouri, during one of the harshest economic times in American history.
As the Great Depression gripped America's purse strings, leaving families destitute and struggling to cope, McQueen's family moved into a farmhouse in Slater with Lillian's brother Claude. Times were tough, but when reflecting on his early childhood, McQueen hailed the experience and influence of his uncle as hugely positive and one which shaped his future – even if he didn't realise it at the time. In fact, it was uncle Claude who would introduce Steve to the world of racing by giving him a red tricycle on his fourth birthday – sparking a lifelong passion.
It was uncle Claude who would introduce Steve to the world of racing by giving him a red tricycle on his fourth birthday
Out of the sticks
At the age of eight, McQueen was on the move again as his mother and her new husband took him to Indianapolis to begin a new life together. However, there was no denying the lasting influence of Uncle Claude. Speaking of leaving his childhood home, McQueen said: "The day I left the farm, Uncle Claude gave me a personal going away present – a gold pocket watch with an inscription inside the case." Reading "To Steve, who has been a son to me", the timepiece became one of McQueen's most cherished possessions. However, the move wasn't all the family had hoped, and the young McQueen suffered at the hands of both his first and second stepfather, driving him to join a street gang and commit petty crimes.
"The day I left the farm, Uncle Claude gave me a personal going away present – a gold pocket watch with an inscription inside the case." Reading "To Steve, who has been a son to me", the timepiece became one of McQueen's most cherished possessions.
Forging his own path
Rebellion was an integral part of his childhood and at 14, McQueen joined the circus for a short period, before eventually being remanded in the California Junior Boys Republic in Chino, following his mother signing a court order claiming he was incorrigible. It was here that McQueen began to grow and mature. Despite initially struggling to find his feet with the other boys, he would later be heralded an inspiration after being elected to the Boys Council at age 16, a group which set the rules and regulations governing the boys' lives.
From the big top to the Marines, with a stint at a brothel in between, a glance through Steve McQueen's resume is an eye-opener, to say the least. Little did the world know that his harrowing experiences would provide a wealth of inspiration for his future acting career.
Man of style
It's one thing being a loveable rogue, quite another to be a loveable rogue with enviable style. McQueen managed exactly that, bringing a swagger that belonged to a different era to the masses.
Effortlessly cool, his clean-cut yet masculine style encapsulated his bad boy persona and his love of a high-octane lifestyle. McQueen could effortlessly switch between a look perfect for the race track and the finest smart casual attire. Regardless of what he wore, his fashion choices were always practical. "He would just get dressed in a quick second and always look great," Chad McQueen said, speaking of his father's sense of fashion,"I never saw him once get out of something to get into something else."
"He would just get dressed in a quick second and always look great. I never saw him once get out of something to get into something else."
Signature looks
Keeping it simple but significant was key to McQueen's look. Much has and continues to be written about emulating his style. The key is getting well-fitted, timeless pieces.
Think of Steve McQueen and the first thing that probably springs to mind is a roll neck jumper and blazer; a classic look which secured his place as a style icon. A well-tailored three-piece suit paired with Persol 714 sunglasses was another look pivotal to McQueen's masculine bad boy style.
Then, of course, there was the double denim. Normally considered a fashion faux pas, McQueen looked every inch the style icon in jeans and a denim shirt teamed with a pair of desert boots. Other signature looks included khaki chinos worn with white plimsolls as he was photographed in for the iconic photo where he sat on a sofa, pointing a revolver with one leg crossed. The moment was captured by war photographer John Dominis, in a shoot for Life magazine. This photo was taken prior to the real photo shoot beginning (and never actually made it into the magazine), serving to highlight his unparalleled knack for looking incredible without even trying.
When it came to outerwear, McQueen's donning of a Harrington jacket helped his appeal and influence to spread to mod culture in the UK. Another staple was a leather jacket over simple layers. When he lead the US team at 1964's International 6 Day Trial motorcycle event, McQueen looked impeccable in a Barbour International jacket. The brand have since capitalised on this with an entire Steve McQueen range.
Not a man to over-accessorise, his less-is-more attitude was never more evident than when it came to his close relationship with TAG Heuer. Since wearing the square-dialled TAG Heuer Monaco on his wrist in Le Mans (1971), the blue-eyed actor and blue-faced watch became forever linked, with McQueen acting as an ambassador of the brand's Don't Crack Under Pressure mantra.
While each of his looks was an expression of his personality, his choice of clothing was only part of what made McQueen so iconic. His nonchalant spirit, rugged personality and undeniable confidence were the main ingredients, and a perfect match for 60s counterculture.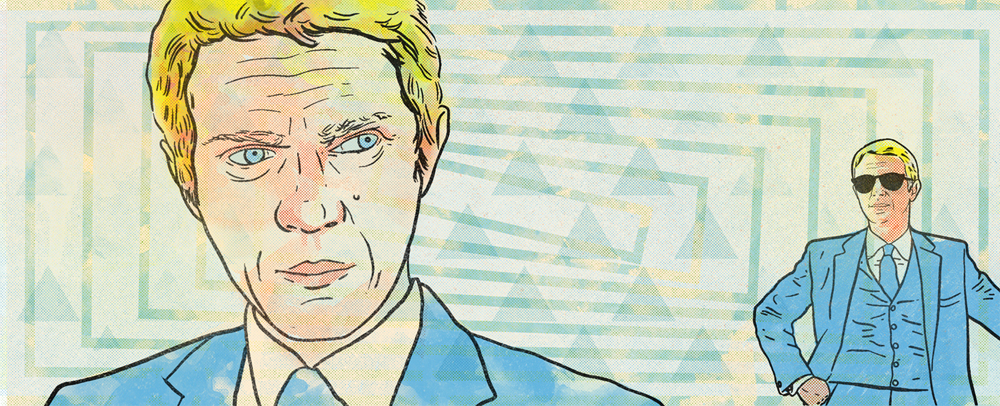 Lights, camera, action!
There's no escaping the allure and charisma of McQueen on the silver screen. Known for portraying cool, reticent anti-heroes, his devilish charm made him one of the biggest box office attractions of the 1960s and 70s.
McQueen's first tentative steps into the world of acting came in 1950 after he found himself "honourably discharged" from the Marines at 20. With support from the G.I. Bill, which helped pay ex-servicemen's tuition fees, McQueen made his own great escape to New York City to study acting. However, it wasn't until he swapped the Big Apple for the bright lights of Los Angeles that the young actor got his first break into film.
The Blob (1953) and his rise to fame
It all began with The Blob – an independent cult sci-fi horror film, which follows Steve (played by McQueen) and his best girl Jane (Aneta Corsaut) as they attempt to protect their hometown from an alien lifeform that engulfs everything it touches. The B-movie may have been his first role, but it was his stint in long-running Western TV show Wanted: Dead or Alive that secured McQueen's status as on-screen crush, taking his career to the next level.
The role of Josh Randall gave McQueen the space to grow into his famed anti-hero persona and cemented his reputation as a rising star. Castings came in quick with the young actor transforming himself into college-dropout-turned-getaway-driver George Fowler in The Great Saint Louis Bank Robbery (1959), Corporal Ringa in Never So Few (1959) and drifter Vin Tanner in the iconic Magnificent Seven (1960).
The Great Escape (1963)
The real movie star status came with the character of Captain Virgil Hilts, a WWII prisoner of war in blockbuster The Great Escape. The film, directed by John Sturges, tells the real-life tale of allied forces PoWs who not only attempt to escape from a German camp, but also to draw Nazi forces away from battle to search for fugitives. A stunt-packed film, McQueen took on most of the action himself, with the exception of the unforgettable final leap for freedom, which had to be carried out by stunt driver Bud Ekins for insurance purposes.
Bullitt (1968)
The Great Escape wasn't the only time McQueen and Ekins worked together, as the pair raced together for the US in 1964 and then teamed up again for the cult Warner Bros classic Bullitt in 1968. Despite practicing high-octane driving on the streets of San Francisco in preparation for the role of police detective Frank Bullitt, McQueen was behind the wheel of the iconic 1968 Ford Mustang for 10% of the car chase scene, with Ekins and two other stunt drivers taking on the bulk of the driving.
The Thomas Crown Affair (1968)
McQueen starred in this heist-romance classic alongside Faye Dunaway. The role was actually first offered to Sean Connery, who went on to say that he regretted his decision to decline. The stunts in this classic film are not as extensive as those in some of his other movies, however McQueen performed them himself, including the beach buggy scene.
Le Mans (1971)
His passion for motorsport was taken up a gear in the 1971 cult classic Le Mans. Set at the 24-hour Le Mans auto race in France, the film tells the story of Michael Delaney (McQueen) a 1970 Porsche 911 driver haunted by the memory of an accident at the previous year's race in which a competing driver was killed. The minimal storyline focuses on the rivalry between Delaney and his Ferrari-driving arch nemesis, Erich (Siegfried Rauch). It was during this film that McQueen donned a TAG Heuer crest on his racing suit and the square-dialled Monaco watch on his wrist, catapulting the watch into superstardom.
McQueen continued to grace the silver screen, taking on leading roles in films such as Papillon (1973) and the Towering Inferno (1974) for which he was paid $12 million, making him the highest paid actor in the world. His final role was that of American bounty hunter Ralph "Papa" Thorson in The Hunter, released in 1979 before the icon's untimely death in November 1980.
Iconic lines
More than just an actor, for many Steve McQueen was the ultimate role model. A man's man, unashamed in his self-confidence, he was the strong, silent type. Not overly enamoured by the glitz and glamour of Hollywood, the racer-turned-actor (or actor-turned-racer as McQueen probably saw it) found inspiration in everyday life and took strides to stay true to his personal values and style. He was an individual who didn't crack under pressure, regardless of the situation.
However, you don't earn the nickname 'King of Cool' without coming out with the odd soundbite guaranteed to set a few engines revving. Here we celebrate some of McQueen's most unforgettable lines and moments, which promise to leave you keen to embrace your inner bad boy.
He was an individual who didn't crack under pressure, regardless of the situation.
"I scrounged around for the next couple of years, trying to get the scam on the human race and just where the hell I fitted in – I discovered there were no openings."
"When I did The Great Escape, I kept thinking, 'If they were making a movie of my life, that's what they'd call it - The Great Escape."
"I'm about challenging people. Like, properly challenging them and their assumptions."
"I would rather wake up in the middle of nowhere than in any city on earth."
"I'm not sure that acting is something for a grown man to be doing."
"I don't believe in that phony hero stuff."
"If I hadn't made it as an actor, I might have wound up a hood."
"When a horse learns to buy martinis, I'll learn to like horses."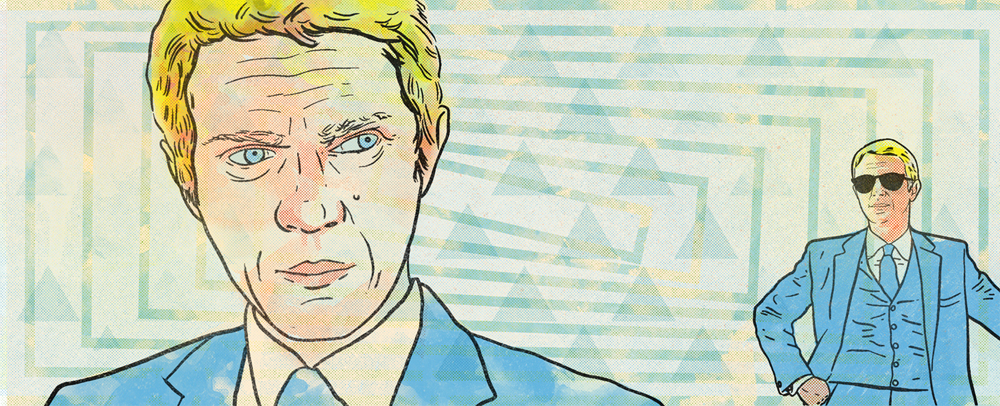 Taking talents to new heights
Celebrities and motor racing have gone hand in hand for decades. These days, stars like Tom Cruise and Patrick Dempsey have been known to add a little extra speed to their CVs by getting behind the wheels of racecars. However, there's no denying the fact that Steve McQueen led the pack when it came to the track.
A legendary Hollywood daredevil, McQueen never shied away from the opportunity to get his hands dirty, taking on many of his own stunts and living on the edge. Armed with a passion for motorcycles and racing from a young age, his hobby was the driving force behind many of his role choices.
Determined to become king of the track, he took part in various professional races over the years, including the British Touring Car Championship in 1961, and the 12 Hours of Sebring Race in 1970 to name just a few. He also often competed in off-road motorcycle racing with his BSA Hornet – taking part in the in Baja 1000, Mint 400 and Elsinore Grand Prix. Such was his passion for motorcycles, McQueen owned about 140 bikes himself. The bikes were auctioned off after his death, with his 1937 Crocker auctioned and sold for a world record amount of $276,500.
As if his thrill-seeking hobbies on land weren't enough, McQueen also flew and owned a range of different aircrafts. The proud owner of the 1945 Stearman, 1946 Piper-J3 Cub and 1931 Pitcairn PA-8 biplane. During his final days, these were hangared at Santa Paula Airport, an hour drive away from Hollywood.
Did you Know...
A man of many talents, Steve McQueen is a movie legend that truly encapsulates TAG Heuer's Don't Crack Under Pressure philosophy. Decades after his death, he's still celebrated as Hollywood's original bad boy, with his defiance of authority and masculine style continuing to inspire future generations.
In honour of the man who took the path less travelled and continually took strides to overcome adversity, TAG Heuer pays homage to the blue-eyed actor with its Monaco collection – inspired by the timepiece worn by the actor in Le Mans.
As well as being a TAG legend, McQueen is still celebrated as the ultimate King of Cool. Below, we shine a light on a few lesser-known facts about the star that only add to his everlasting charm.
His father was a stunt pilot for a barnstorming flying circus and left his mother shortly after meeting her.
He was once caught red-handed by police while he stole hubcaps, and handed over to his stepfather, who beat him severely.
McQueen was offered the male lead in Breakfast at Tiffany's but couldn't accept due to other commitments.
The actor would demand free items such as electric razors and jeans from studios while filming with them. Later it was revealed that all items went to the California Junior Boys Republic reformatory in Chino Hills where he spent his childhood.
He volunteered to serve on a ship once he left the California Junior Boys Republic reformatory at the age of 16. On reaching Dominican Republic with the crew, he abandoned the ship and got a job as a towel boy in a brothel.
A pair of blue-tinted Persol sunglasses worn by McQueen in The Thomas Crown Affair was auctioned off in 2006, selling for $70,200.