WORLD FAMOUS DIAMONDS
We take a look at the worlds most famous diamonds. These stunning diamonds have been used in engagement rings, dress rings and diamond jewellery.
0.90CT ROUND VIVID GREEN DIAMOND
SOLD AT: Sotheby's New York,October 21, 1999
PRICE PAID: $662,500
This little round diamond was the first of the greens to come to market. Graded as "fancy vivid green" it pushed the Gemological Institute of America (GIA) into new territory since the green of a natural diamond comes from radiation, the same method used to add colour artificially to diamonds. According to Lisa Hubbard, international executive director of jewellery for Sotheby's, "It was extraordinary to get the grading, they managed to work out that it was natural." The 0.90-carat stone was purchased by, and remains with, a private American collector.




0.95CT ROUND FANCY PURPLISH-RED DIAMOND
SOLD AT: Christie's New York, April 28,1987
PRICE PAID: $880,000
This mighty little stone still holds the world record price per carat for a red diamond sold at auction. The stone was such a rarity at the time, says Rahul Kadakia, Christie's head of Jewellery Americas and senior vice president, that the consigner, a private American, "thought it was a garnet". But such thoughts were banished by the dealers, who contested for it hotly. The late Bill Goldberg was one of the under bidders, but it was Ted Horovitz who snagged the stone. Rumour has it that he bought it for the Sultan of Brunei, the richest man in the world at the time.




5.54CT ROUND FANCY VIVID ORANGE DIAMOND
SOLD AT: Sotheby's New York, October 30, 1997
PRICE PAID: $1,322,500
Was it a coincidence or just good karma that an orange diamond, the first seen at auction, was offered the day before Halloween? Whatever the reason, it was purchased by Harry Winston Inc. and immediately dubbed "the Pumpkin Diamond." The stone was in Winston's hands long enough to be on display at the Smithsonian and worn by Halle Berry when she won the Oscar for Best Actress in 2002. It was sold by Winston in 2005 to a U.S. buyer, although it may have been sold again since that sale. As much as he loved it, Winston says, "I long ago decided that I had to choose between being a collector and being a business." The business won out, but he did enjoy owning the Pumpkin Diamond for eight years.




20.17CT EMERALD CUT FANCY BLUE DIAMOND, VS2
SOLD AT: Sotheby's New York, October 18, 1994
PRICE PAID: $9,903,500
Like the small, round green diamond, this blue was one of the first of its kind when it came to the GIA. "The GIA really didn't do 'vivid' back in 1994," explains Hubbard, or this stone likely would have earned that rating, instead of simply "fancy blue." Even so, it garnered a hefty price, paid once again by Sam Abram, who Hubbard says is known as "king of the blues" – blue diamonds, that is. As with the 7.37–carat purplish-pink, Abram would neither confirm nor deny his current ownership of this stone.




---
25.02CT PEAR CUT PINK DIAMOND, INTERNALLY FLAWLESS
SOLD AT: Christie's New York, October 19, 2005
PRICE PAID: $6,008,000
This large exquisite pink diamond is the most recently sold stone on the list. Purchased by Amer Radwan, a dealer based in Dubai with customers based throughout the Middle East, the stone was immediately dubbed "The Rose of Dubai." The privately owned stone attracted a lot of interest when it was put up for sale. It had been half of a pair of earrings; the other half was a 25-carat blue diamond, not offered for sale. This was one of those stones that, says Christie's Kadakia, "You get sad when you sell it. You fall in love with it and then sometimes, it comes back." In this case, the stone has been sold some 20 years earlier by Laurence Graff. "He remembered the stone," says Kadakia. That's not surprising. Diamond dealers remember virtually everything they sell, but who wouldn't remember a stone of this size, quality and colour?




41.94CT CUSHION CUT, EMPEROR MAXIMILIAN DIAMOND, I VS1
SOLD AT: Christie's New York, April 20, 1982
PRICE PAID: $7,260,000
This famous named diamond has a lot going for it, in spite of its low colour grade. It has a very strong blue fluorescence and a provenance dating back to 1860, when it was purchased by Emperor of Mexico Ferdinand Maximillian. It was supposedly on his neck when he was executed in 1867. The stone was returned to his widow and then disappeared until 1919, when it was purchased by a Chicago gem dealer, Ferdinand Hotz. He displayed it at the 1934 Chicago World's fair. After Hotz's death it was acquired by a 'titled' private collector. It next appeared in 1982 when it was sold by Graff. Rumour has it that it may have been sold to that well known collector, Imelda Marcos.




---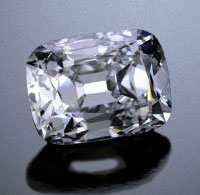 78.54CT CUSHION CUT, ARCHDUKE JOSEPH DIAMOND, D SI1
SOLD AT: Christie's Geneva, November 18, 1993
PRICE PAID: $6,488,000
This named diamond came to auction through a banker for a private client. The sale had a "dangerous" feather, according to Al Molina, of Molina Fine Jewellers in Phoenix, Arizona, accounting for its modest price. That flaw scarcely detracted from its "limpidity," a quality imputed to its origin as a type IIa diamond. It sold at auctio to a trio of American buyers, who " rolled the dice," as he says, and put it back on the wheel. The gamble paid off. Recut to 76.45 carats and with a new grade of IF, the stone was sold to a royal Indonesian family. Riots there prompted the family to sell the stone, through a lawyer, to Molina. Although he loves the diamond- he says "I fall in love with everything I buy" – It is up for sale. Recently, he raised the asking price from $25 – 30 million and he is quite happy to wait for a buyer. While he waits, he enjoys the glow of being idetified with a truly historic and equisite diamond.




---
100.10CT PEAR CUT DIAMOND, D INTERNALLY FLAWLESS
SOLD AT: Sotheby's Geneva, May 17, 1995
PRICE PAID: $16,500,000
Even in an age of "been there, done that," a 100 – carat stone still commands attention. This enormous diamond sold to a well-known Middle East diamond merchant, Ahmed Hassan Fitaihi, for a world-record price for a piece of jewellery sold at auction. He named it "The Star of the Season" and the stone is thought to be still in his possession, according to Hubbard. "He attached his name to it," she says," and used it for publicity." Fitaihi was once one of the prime conveyors of goods to the Sultan of Brunei and along with competitor Mouwad was one of the main buyers of jewellery and gems at auction.




---